Why We Funded
The Amelita Mirolo Barn at Sunny 95 Park in the City of Upper Arlington serves as a tribute to the life of a woman who cared so deeply about the Upper Arlington community.
In 1993, Amelita Mirolo established The Mirolo Charitable Foundation. She dedicated the remainder of her life to giving to projects and causes that were meaningful to her. Until her death in 2007, she spent 15 years being a philanthropist in Upper Arlington.
Ms. Mirolo was especially generous to projects in her beloved Upper Arlington. After first hearing of the Upper Arlington Barn restoration, MCF knew this was a worthwhile project.  Being able to help the residents of Upper Arlington have a place to gather and enjoy each other's company and enjoy the arts and educational programs was something that would have meant a lot to Ms. Mirolo. We know she would have been proud to have her name on such a place.
The "Mirolo Barn" is a unique gathering place, one that will serve the citizens of Upper Arlington for years and years to come. There is no doubt that Amelita would have been one of the first in line to enjoy the music and offerings at The Amelita Mirolo Barn.
This project would not have been possible without the Upper Arlington Community Foundation and their hard work in bringing this project a reality.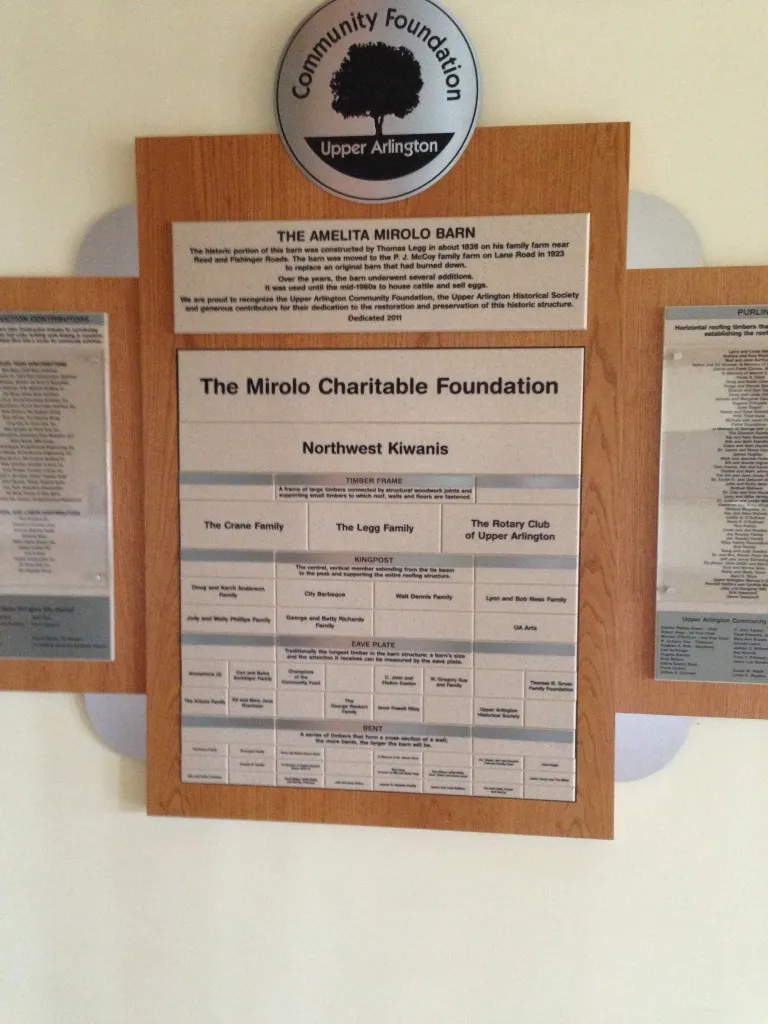 History of the Barn
This barn had two previous lives.
The original barn was constructed by Thomas Legg, for his farm on Fishinger Road. All of the main beams, sill and top plates were hand-hewn from local virgin-growth oak.
In December 1923, this barn was moved about a mile to the McCoy family farm, at 1988 Lane Road, to replace a barn that had burned down. Clarence Davidson and his wife Nelly McCoy Davidson modified and adapted the barn to meet the ever-changing needs of farm life. Over the years the original 20 x 30 barn had undergone several additions, probably using parts salvaged from the barn that burned down.
Some UA residents might remember buying eggs out of this barn from the Davidson's daughter, Anna Marie Davidson Drake and her husband, Jim. The barn was used to house cattle and store farm tools and supplies until 1966. It was the last working barn in our community.
Luckily, due to periodic roof replacements and sills on concrete, the original timber frame had been protected from the weather.  To assure the survival of this historically significant structure, the last owners donated the barn to the City of Upper Arlington.
In March 2008, the timbers were carefully dismantled, cataloged and stored under cover for a future use.